The Advanced Treatment for Natural and Lasting Headache & Migraine Relief
4,200+ of our previous patients no longer need to avoid triggers, take medications & injections, or continue with other non-lasting therapies and treatments (such as acupuncture, chiropractic, massage, supplements, and other interventions).*


Free yourself from ongoing medications, injections, supplements & therapies (90 Seconds):
Quick explanation of the lasting solution to your headaches or migraines (1 Minute)
What does an evaluation look like? 
(2 Minutes)
 This brief Quiz alerts you to symptom issues that are
easily sorted out with this System of Evaluation and Treatment: 
 If you think you might be a candidate for this System and would like to take the first step, Click Below.
The link takes you to a detailed symptom history that we use for your evaluation.
*No upfront charges until you are approved, and consent to treatment.
*Please take the entire survey, or we cannot review your application.


Relief isn't enough anymore . . . .
Relief vs. Reversal Fact 1
Our average patient has seen 5 doctors, neurologists, and other specialists, but never found the lasting relief they were looking for until our Advanced Treatment. Reversal has proven to be the way out for our usual patients because relief isn't enough to stop the pain permanently.
Relief vs. Reversal Fact 2
The usual successful patient here has had headaches & migraines for 27 years before they received our Treatment. Through reversing the source of pain, the Advanced Treatment has been able to free thousands of migraine and headache sufferers from pain.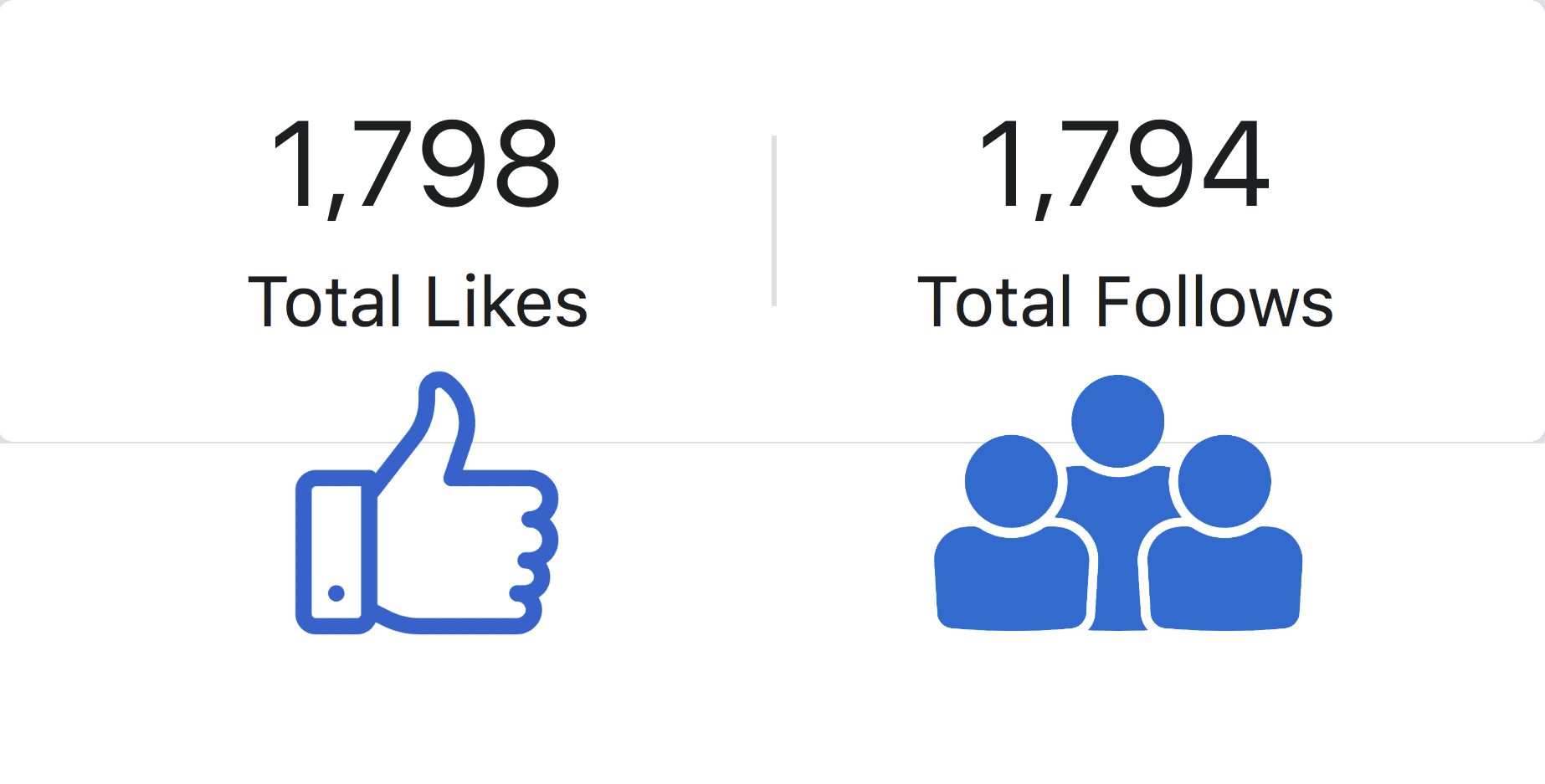 What does our Advanced Treatment do?
Reversal vs. Pain Management
In the realm of migraine and headache pathophysiology and treatment, the focus for years has been temporary relief. In other words, patients take medications until they need the next one. Patients get injections until they need the next one, and so on.
This treatment changes all of that.
The reason why this treatment is different is because its goal is to keep patients out of pain for years with near-complete relief. The result is, more or less, a reversal of pain out of the face, head, and shoulders, until symptoms gradually dissipate until lasting relief has been achieved.*
Pain management, as you have experienced, does not last.The pain always finds a way back – and usually very quickly.
Before Advanced Treatment, we've found our patients tell us that they're tired of avoiding headache and migraine triggers all day, and have wasted valuable time and financial commitments to treatments that didn't last long enough – or give enough relief.*
So pain management as many know it does not solve the real problem or give lasting relief. What you need for lasting migraine and headache relief is more than just pain management.
Without Advanced Treatment
With Advanced Treatment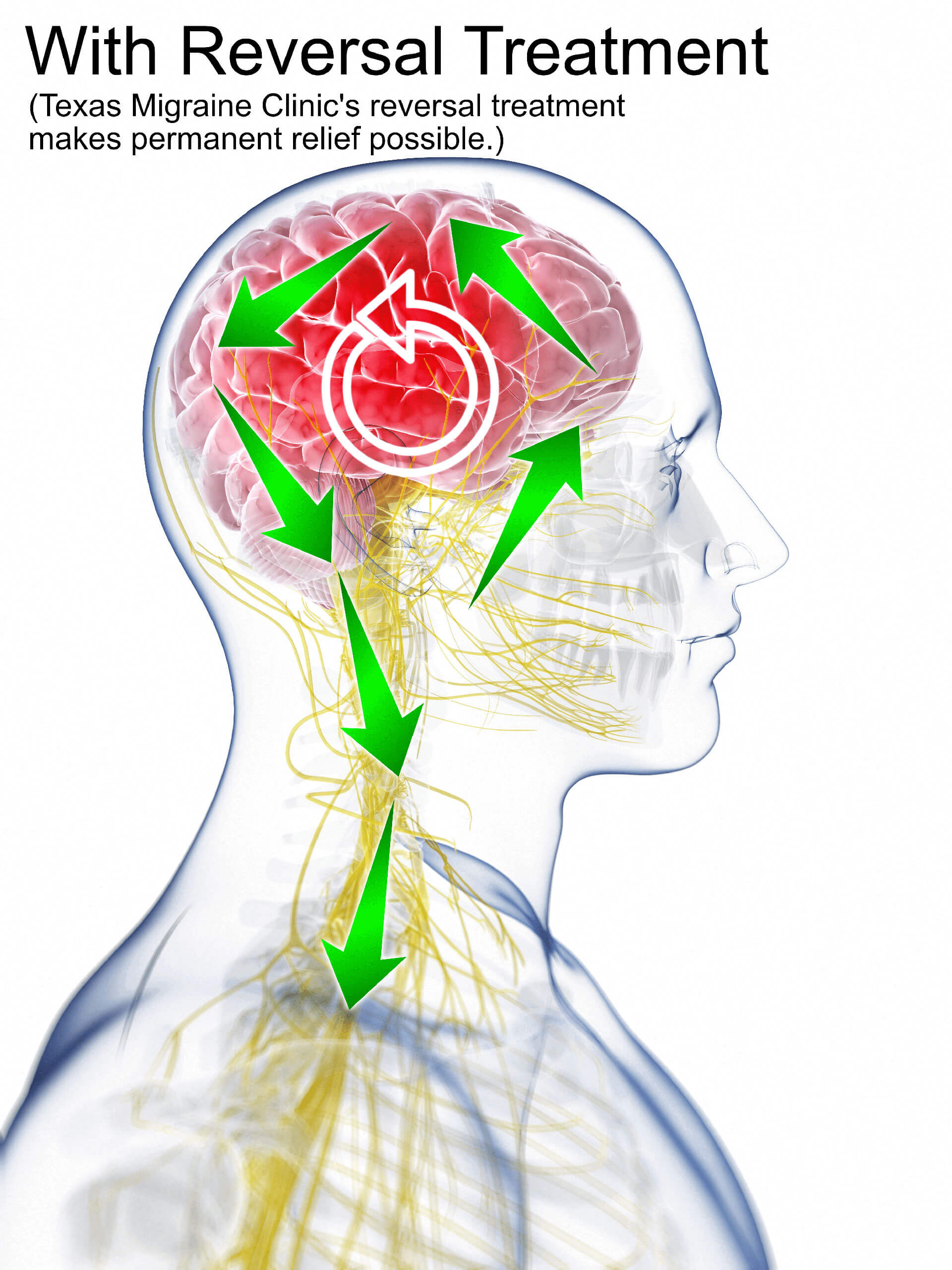 Why the Treatment is Different than Other Treatments . . .
Symptoms we Commonly Reverse
Headache
Sinus pressure/nose stuffiness
Eye dryness or itchiness
Eye pain or pressure
Ear fullness or pressure
Jaw tightness, pain, or clicking (TMJ)
Dizziness
Nausea
Conditions We Commonly Reverse
Chronic Migraine without Aura
Chronic Migraine with Aura
Cluster Headache
Hemiplegic Migraine
Abdominal Migraine / IBS / GERD
Menstrual Migraine
Tension / Stress Headache
Ocular / Ophthalmic Migraine
Trigeminal Neuralgia
Migrainosus / Status Migraine
Cervical Radiculopathy
3 Steps to Getting Accepted Into Advanced Treatment

Step 1
Take Admission Survey
(Click the Green "Start Admission Survey" Button)

Step 2
Get Accepted if Qualified
(A receptionist will get back with you after the Admission Survey is taken.)

Step 3
Get Advanced Treatment
(Once and if you are approved, a receptionist puts you on the schedule.)
Get Advanced Treatment wherever you are.
We use an application called Zoom™ (Similar to Skype™ or FaceTime™) which connects you to your Texas Migraine Clinic doctor.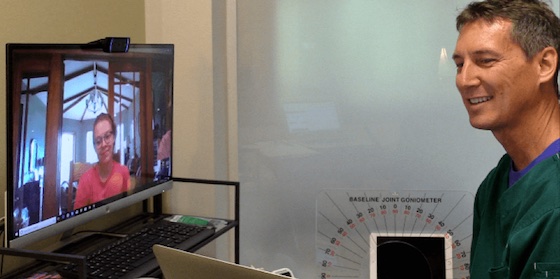 "I'm very used to doing video-cam interaction, having 6 years' experience with it. It's an ideal platform, as I can clearly discern detailed symptom patterns that I'm looking for in real-time as I visually interact with you."
- Dr. Turner DPT, cert. MDT
Convenient and Powerfully Effective
In most cases, patients who choose the remote Treatment option get the equal or better results than those who visit the clinic in person. 

In fact, 92% of our patients experience partial or total relief of their sinus symptoms (which they attributed to allergies)

during their first evaluation

.
We are more than used to treating patients who have had minimal to no migraine relief, or intolerable side effects with other treatments. Our average patient has struggled with migraines for 27 years, and has seen over 5 neurologists, doctors and migraine specialists. Aside from our Treatment, they never found the near-complete and lasting migraine relief they were actually looking for.
According to the results of our patients, the latest state-of-the-art migraine injections gave most of them 20%-40% relief at most.* We are often the last stop for the most difficult migraine and headache conditions.
Before Us, Patients are Usually Tired Of:
Avoiding migraine & headache triggers
Taking supplements that just aren't working
Getting only limited & non-lasting relief with chiropractic & massage
Only getting temporary, incomplete relief through injections and medications
Desperate enough to consider surgery which often damages nerves to stop the pain
The Logical Solution through Advanced Treatment
 We've already done all the hard work for you, and thoroughly investigated what the many different types of specialists, doctors, and neurologists do to treat migraines. We've sorted out why the best of what they do works, and refined a custom, highly specialized algorithmic treatment for lasting relief.
–
At Texas Migraine Clinic, we understand that you need lasting migraine relief- not just "pain management" which, as you know, is not a real solution to your migraine and headache pain – because the pain – in nearly all cases – comes back with temporary relief treatments.*